The CHSRA would have you believe that fatal accidents have never occurred with high-speed trains. That is not correct. Just Google this to learn about it. The fact is that accidents can and do happen.
In this case in Germany last evening the train was an express, not a high-speed train. It collided with a freight. Could that happen here, in California?
High-speed rail must not be built anywhere near freight rail. . . EVER! Not in the same corridor; not in proximate corridors.
Freight trains do derail and tumble all over a rail right of way. We've seen dozens of photos of such events in the newspapers and on TV. Needless to say, HSR goes very fast. Their interaction would be horrific.
We are also assured that this can't happen because of positive train controls. I would respond by saying that a zero-defect system is theoretical, not real.
Where was all that highly touted positive train control (PTC) made by Siemens that the Germans are famous for?
==================================
Emergency staff work at the scene of the accident early on Sunday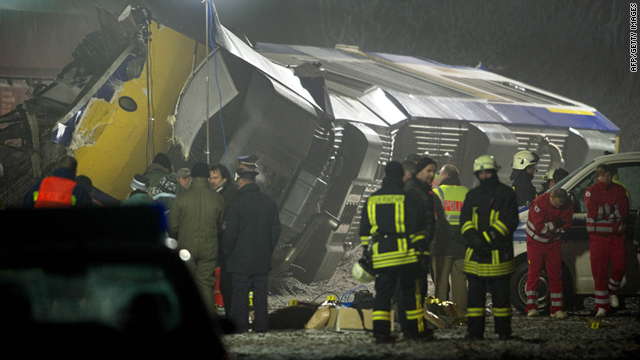 h
ttp://www.cnn.com/2011/WORLD/europe/01/29/german.train.collision/index.html?hpt=T2
Police: Train collision in Germany kills 10
January 30, 2011 12:27 a.m. EST
STORY HIGHLIGHTS
10 killed and 43 injured in train collision in eastern Germany
The accident occurs near the town of Oschersleben in Saxony-Anhalt
The cause of the crash is unknown
Germany
(CNN) -- Ten people were killed and 43 were injured, 18 seriously, when two trains collided in eastern Germany late Saturday, a Magdeburg Police spokesman said.
The crash between a regional HarzElbeExpress passenger train and a freight train occurred less than two miles from the nearby town of Oschersleben shortly after 10:30 p.m. local time.
Portions of the train burned in the snow for about two hours.
Video showed rescue workers and investigators combing the wreckage and overturned cars.
Officials said many passengers were thrown from the train after the incident. The cause is unknown.
Investigators and emergency crews were at the scene early Sunday.